As parents, we've heard getting an early start on our kid's oral hygiene is essential for their well-being, and we understand the importance of early dental care. But what exactly does that mean? And how does routine dental care fit into the picture?
Getting a head start on good dental habits can help keep your child's teeth healthy for a lifetime. Healthy baby teeth and gums can:
Help children learn to eat properly
Help children to speak more clearly
Guide permanent adult teeth into the correct position on the jawline
If you're wondering how early to start with good hygiene habits, the Canadian Dental Association (CDA) recommends beginning to clean your baby's gums even before they pop their first tooth.
Should I Bring My Infant to the Dentist?
The short answer is yes. The CDA encourages parents to bring their children for an initial visit with the dentist approximately 6 months after their first tooth, or no later than their first birthday.
The idea of bringing a baby to the dentist may be surprising, but being proactive about oral care in the early stages can help cement a lifetime of good dental health. There are many additional benefits to starting dental care at an early age, like:
Ensuring that your baby's teeth and gums are developing as expected.
Discovering and treating early instances of infant and toddler tooth decay.
Being watchful of and helping to eliminate oral habits like pacifier use and thumbsucking.
Helping to establish a daily oral hygiene routine for younger children
Keeping Baby Teeth Healthy & Strong
When that first little tooth pops out, the last thing on our mind is cavities. But, the risk of tooth decay appears as soon as that tooth makes its way out of the gum. Parents can help prevent infant tooth decay by:
Eliminating sugary liquids like juice, soda, or sweetened water from baby's bottles and sippy cups.
Refraining from dipping pacifiers in honey, syrup, juice or other sugary substances.
Avoiding the sharing of spoons or cleaning pacifiers with mouths (this helps eliminate the transfer of oral bacteria from one mouth to the other)
At your child's first visit, the dentist can help parents develop a proactive routine to help keep teeth strong, and demonstrate how to brush and floss your infant's teeth.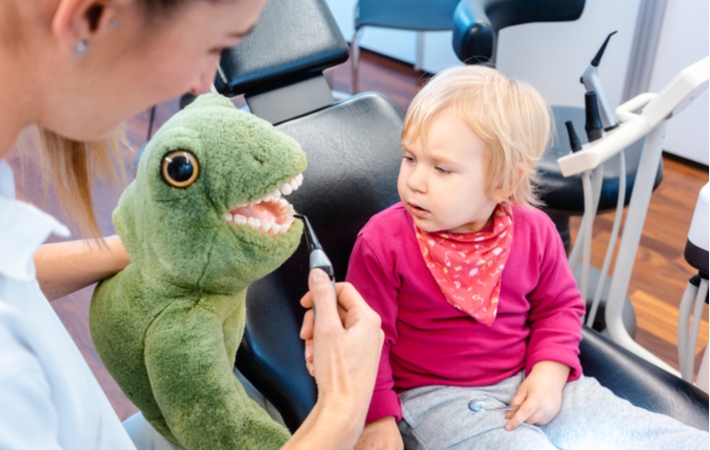 Baby's 1st Exam
At baby's first dental exam, parents can expect:
A few questions about baby's health history, including diet, general health, and fluoride intake
An examination of gums and emerging teeth
Information about pacifiers
Details about developmental milestones
Advice on choosing an appropriate toothbrush and toothpaste for infants
A demonstration of how to brush and floss an infant's teeth
Advice on how to implement an early childhood hygiene routine
If baby's teeth appear stained, your dentist may provide a gentle cleaning
Tips and tricks for teething
After your baby's check-up, your dentist will suggest a dental care routine that best fits with their developmental stage and oral health.
The Benefits of Routine Dental Check-Ups
Preventative care is essential for your child's dental health, and routine check-ups are the best way to catch problems in their earliest stages. To ensure their healthiest smile, the CDA recommends that your child see a dentist every 6 months.
Taking your child to their routine dental exam can help:
You determine if your family's oral hygiene habits are working, or if you need to implement a new strategy.
Your dentist discovers and treats dental issues at the earliest possible stage.
Your child develops a relationship of trust with their dentist.
Preventative Care for Kids
Parents can help set a precedent for dental health by ensuring they have access to routine appointments with their dentist starting in infancy, and by:
Setting a good example: Adults in the home should model good dental hygiene, attend regular check-ups at the dentist, and follow an effective oral care routine.
Limiting sugary beverages: Infant bottles should only be filled with milk or formula, and encourage children to drink water or milk instead of juices, sports drinks, and soft drinks.
Supervising: Adults should be present during a child's oral care routine to ensure they are using proper brushing and flossing techniques.
Using the right tools: Select appropriate toothbrushes for your child's age range, and provide toothpaste with fluoride.
Offering healthy foods: Educate your children about tooth-healthy foods, and the importance of limiting sugary or acidic food and drinks.
Come For a Visit
Visiting your family dentist for routine care is essential for every family member. Early dental check-ups will improve your chances of preventing early childhood cavities, and help identify any dental health concerns or orthodontic needs in the earliest stages.
At Fairlawn Dental Centre, we love to help our youngest patients get started on the path to excellent oral hygiene. We'll work closely with parents to help ensure a lifetime of healthy smiles.
Think of us when that first tooth comes calling, and book an appointment with one of our dental care experts!