Ensuring a Healthy Smile
As parents, we strive to ensure our children have the happiest smiles possible. We're on top of their daily oral hygiene; we supervise toothbrushing and flossing, and make sure they visit the dentist regularly.
Despite all your hard work in the dental department, your kids may still require orthodontics to help their mouths stay as healthy as possible.
But how can we tell if our kids need braces, and when should we start to be concerned?
Why Do Kids Need Braces?
Orthodontists or your general dentist will recommend braces to help with a misaligned jaw, or to straighten crowded or crooked teeth. They are often prescribed between the ages of 9 and 14, when most teeth are permanent.
Children may end up needing braces simply due to genetics, but lack of nutrition and dental hygiene can also be contributing factors.
Braces have a high success rate, and provide children with far more health benefits than just the bonus of straighter teeth.
Additional benefits of braces can include:
Improved oral hygiene: Crowded, crooked, and overlapping teeth can make it difficult to brush and floss effectively. Plaque buildup from poor dental hygiene leads to tooth decay and gum disease. When teeth are correctly aligned, your child can clean them more easily.
Improved oral health: A misaligned bite can cause additional stress on areas of the mouth, leading to weakened teeth. Braces help align the teeth and can mitigate issues like broken and chipped teeth.
Improved speech: Misaligned teeth can affect speech patterns, causing difficulties and frustration for your child. Braces adjust the position of the teeth, helping to create space in the mouth for clear speech.
Improved confidence: Braces straighten the teeth, helping to enhance your child's confidence.
If you feel that your child could benefit from braces, it's best to consult with your dentist as soon as possible.
Signs Your Child May Need Braces
Overcrowded teeth are a common sign that your child may need braces. Look closely at your child's teeth to see if they are cramped or starting to overlap. It's best to tackle crowded teeth early, as lack of space in the mouth can lead to tooth decay and gum disease.
Here are a few additional signs that your child may need braces:
Teeth lost too early, too late, or irregularly
Pain when chewing or biting
Top and bottom teeth don't meet adequately when the mouth is at rest
Visibly crooked teeth
Difficulty flossing or brushing around crooked or crowded teeth
Frequently biting the tongue or the inside of cheeks
Difficulty pronouncing certain words
A jaw that clicks or makes noises when chewing
Stress or fatigue in the jaw
Consistently breathing through the mouth
History of thumb-sucking or using a pacifier past the toddler years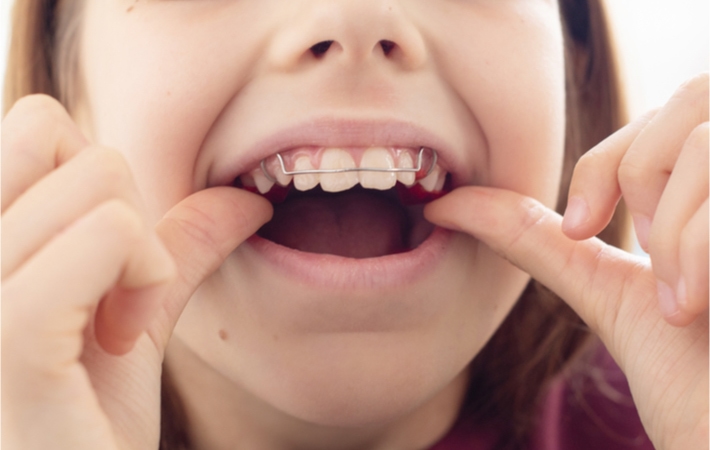 Interceptive Orthodontics
Interceptive orthodontics is a method used to influence your child's mouth and jaw development. This treatment is effective only while the body is still growing—interceptive treatments typically begin earlier than traditional orthodontics, generally between the ages of 7 and 9.
Orthodontic problems detected in early stages can result in early intervention. An orthodontist or general dentist with additional training in orthodontics can guide jaw growth, monitor the mouth's development, and recommend treatment at the proper stages.
Interceptive orthodontics does not always involve braces; various techniques may be employed, including special devices or exercises for the jaw and mouth.
Early orthodontic treatment may help reduce the complexity and invasiveness of future treatments, and can result in a more desirable result for your child's smile.
Early interceptive orthodontics has many benefits, like:
Creating or preserving space for adult teeth
Reduced tooth wear and gum recession resulting from an underbite
Shorter time wearing braces
Influencing jaw growth to help develop the facial profile.
Interceptive treatment is not for every child who needs orthodontics, but an evaluation can be highly beneficial — especially if complex problems can be discovered and treated early.
Discuss the details with your dentist if you believe that your children could benefit from early orthodontic treatment. They'll be able to help determine the best course of action, and provide you with any appropriate referrals.
Consult With Your Dental Team
We already know that every child is different, and that goes for their teeth too! That's why some children will require orthodontics and others will not. The best way to find out if your child needs braces is by discussing their smile with your dentist.
Regularly scheduled appointments with the dentist are essential to your family's dental health. Routine visits can ensure that any potential issues are tracked, and orthodontic concerns are caught in the early stages.
If you have questions about your child's smile, interceptive orthodontics, or are wondering if they may need braces, book an appointment with our team at Fairlawn Dental Centre. We can discuss your concerns, and help determine the next steps.
We love nothing more than making our youngest patients smile, so reach out to us today!