Anxiety around visits to the dentist is a common thing. For some people, the hesitation surrounding any kind of dental procedure prevents them from going to the dentist at all.
That's where sedation dentistry comes in—it's all about providing a relaxing experience for you.
Your dental professional will be able to monitor the sedation process safely and relieve some of your anxiety surrounding your visit. But what is sedation dentistry? And is the process safe? Let's explore some aspects of sedation dentistry.
What Is Sedation Dentistry?
Sedation dentistry is the practice of using anesthetics to calm someone who is anxious about a visit to the dentist. Sedation dentistry is most common during root canals, dental implants, and emergency dental care.
The fear of pain, needles, and intimidating procedures can be a deterrent towards completing much-needed oral care. Sedation dentistry allows you to relax during your visit and alleviate that extra stress and concern that may be preventing you from scheduling a visit.
There are 2 different sedation dentistry methods:
Oral sedation—is taken in the form of a small pill. This method is safe and effective and can reduce anxiety to help patients through dental procedures.
Inhalation sedation dentistry—is nitrous oxide gas and is also referred to as laughing gas. This method works quickly and effectively and wears off just as quickly. Inhalation sedation is administered with a facemask to help you feel relaxed during your dental procedure.
Some of the positive effects that nitrous oxide can provide during dental treatments include:
Lowering stress and anxiety
Increasing pain tolerance
Increasing patient cooperation
Reducing gagging (gag reflex)
Increasing tolerance for longer appointments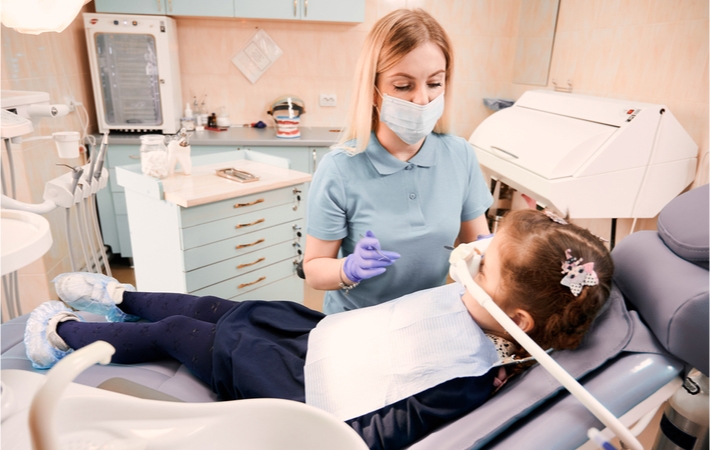 How Sedation Dentistry Works
Depending on what method your dental professional goes with for sedation dentistry—inhalation sedation dentistry is a pretty simple process.
Your dental professional will administer short bursts of gas through a nose hood. The device comfortably rests over your nose, and with the effects of the gas, your dentist can work on your teeth uninterrupted.
Depending on the length of your procedure and your discomfort levels, you may experience several bursts throughout the treatment. Your dental professional will safely monitor the whole procedure.
Speaking of safety, let's look at the overall safety factor of sedation dentistry.
Sedation Dentistry Safety
Sedation dentistry is safe and approved by your dental professional. However, some people may experience some short-term side effects following the procedure:
Excessive sweating
Shivering
Nausea
Vomiting
Dizziness
Fatigue
The recovery process from these side effects is quick—you may need to stay in the dentist's office to be monitored and make sure you're feeling well enough to head home. It's wise to bring a family member or friend who can accompany you home after any sedation dentistry procedure.
Nitrous oxide sedation is a very safe and controlled procedure, but in some cases, it may be best to find an alternate sedation method.
Seeking different sedation methods is advised if:
You're in the first trimester of pregnancy
You've been diagnosed with respiratory illness
You have a history of mental health disorders
You have severe cardiac disease
You are critically ill
Both methods of sedation dentistry are safe and commonly used by dental professionals and should only be administered by your dental professional.
Professional, supervised sedation is safe and effective when administered in moderation by your dental professional.
Moving Forward With Sedation Dentistry
Sedation dentistry is a great option for people who are anxious or worried about visiting the dentist. The sedation dentistry method is a safe and proven procedure that occurs under the supervision of your dental professional.
Book an appointment today with your dental professional to learn more about sedation dentistry and if it's right for you.