You've probably heard about Invisalign® over the last few years, a new way to straighten teeth and correct jaw alignment. Like any dental treatment, there are pros and cons to using Invisalign®. But how does Invisalign® compare to dental braces?
Determining which is better for you (or your child) depends on a few different factors and your priorities. Understanding the benefits of each corrective method and consulting your orthodontist or dentist are the best ways to decide how to straighten your teeth.
Understanding Dental Braces
Modern orthodontic braces, or dental braces, have been used in dentistry for over 200 years. Braces still have a prominent role in today's orthodontics and are used for a variety of teeth and jaw corrections. Braces usually consist of brackets glued onto the front of the teeth, connected by archwires moving teeth in desired directions.
Let's explore the good, and the bad, of wearing braces.
Benefits of Braces
Dental braces are a tried and true orthodontic practice for correcting overbites, underbites, crossbites, and crooked teeth. A patient will almost always have noticeable results following their time wearing braces. Here are some of the benefits that braces bring to the table:
Versatile Treatment: braces can be used to fix almost any dental irregularity. They can also treat multiple irregularities at the same time. The force that can be applied across teeth with conventional braces allows an application for almost anyone.
Near-perfect Results: although it may take some time, it's possible to get your jaw and teeth almost perfectly aligned with braces. Tension can be manipulated very precisely so that eventually, each tooth can shift to the desired place.
Potentially Faster Results: because of the gradual forces that can be applied with traditional braces, the teeth can be shifted more consistently. Braces are worn 24/7 and don't rely on the wearer putting trays back in, so results may come quicker with braces.
Disadvantages of Braces
Some inconveniences come along with wearing conventional braces and they do require some minor lifestyle changes. Some of the disadvantages of using braces to correct your smile include:
Regular Orthodontic Visits: because the teeth are constantly shifting as the braces do their job, you will need to adjust the wire tension about once a month. This will likely be necessary until the braces are removed.
Potential Diet Changes: sticky foods (like candy, gum, or dried fruits) can get caught in the wires and brackets and become quite difficult to clean. Hard foods can cause the archwires to bend or the brackets to break, which makes them ineffective until repaired. So there is some diet consideration required while wearing braces.
More Difficult Oral Care: to keep your teeth truly clean while wearing braces, the spaces in and around brackets and wires must be addressed. This is time-consuming and tedious but there are special tools that aid brushing with braces.
Aesthetic Appeal: some people prefer the look of natural teeth to that of conventional braces. If you are someone bothered by the look, this is a downside to wearing braces.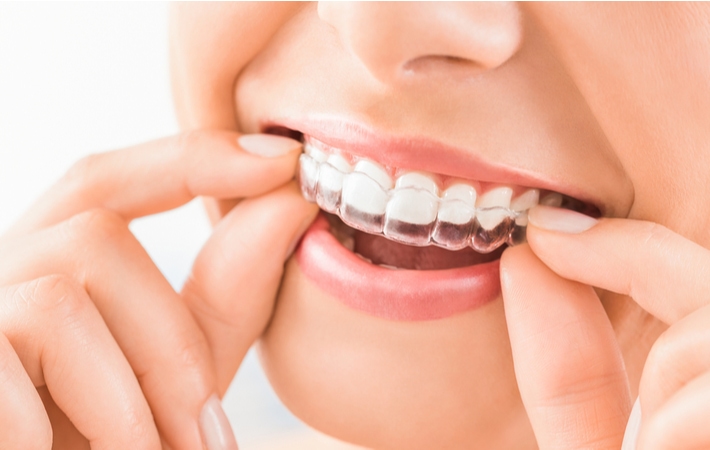 What is Invisalign®?
Invisalign® was developed in the 90s as an alternative to traditional dental braces. Plastic trays are custom shaped to your teeth and mouth with a 3D scanner. Designed to move your teeth towards proper alignment, the trays are replaced periodically to account for the shift.
Let's explore the good, and the bad, of wearing Invisalign®.
Benefits of Invisalign®
Correcting jaw and teeth alignment issues has never been more convenient. Some of the reasons that Invisalign® may appeal to you are:
The Name Says it All: Invisalign® is designed to be just that, invisible! The clear trays maintain a transparent look and keep your smile looking natural. If natural aesthetics is important, Invisalign® is superior to braces.
Trays Can be Removed: whether for eating, brushing your teeth, or kissing a special someone, the trays can easily be removed from the mouth. Keep in mind that wearing the trays as per your orthodontist's or dentist's recommendations is the fastest way to get results.
Less Orthodontic Visits: aligner trays are exchanged every 2 weeks or so at home (as trays are already fabricated) and require less involvement from an orthodontist or your dentist after the initial fitting.
Potentially More Comfortable: although users can expect discomfort from shifting teeth (just like braces) the trays are smooth like tooth enamel. Braces can leave cuts and scratches on the inside of your mouth from the brackets and wires.
Disadvantages of Invisalign®
Invisalign®is a modern, effective solution for straightening teeth. But there are some downsides when compared to braces. These factors may discourage you from trying Invisalign®:
Cost: the prices for both braces and Invisalign® will vary on a patient-by-patient basis, but generally, the costs can be higher for Invisalign®treatment.
Self-discipline Required: making sure that Invisalign® trays are replaced after meals is very important for getting effective results. The wearer needs to take on more responsibility if electing to go with Invisalign®.
Poor Choice for Complex Cases: Invisalign® is not an ideal choice for people who have quite complicated alignment issues. An orthodontist or your dentist will ultimately determine if Invisalign® is appropriate for severe misalignment patients.
So Which is Better?
You can expect some discomfort, especially in the beginning stages, when wearing both Invisalign® or braces. And both methods are going to require some responsibility from the wearer. Depending on your dental situation and the advantages you value most, either corrective appliance may be the best choice for you.
Invisalign® May Be the Right Choice
For people who want to maintain a natural look and minimize aesthetic changes to their smile, there is no question that Invisalign® is a better choice. If this is an important aspect and budget is not a primary concern, then Invisalign® will be the more discrete choice.
Invisalign® provides an overall better convenience package. If you are someone who wants to avoid trips to the dentist or orthodontist, then Invisalign® is the right choice for you. Since the trays can be removed and replaced easily, it makes eating and brushing your teeth easier. But remember, keeping the trays out beyond recommendations will lessen your results and make the treatment process take longer.
Braces May Be the Right Choice
If you are someone with more complicated teeth or jaw alignment issues, braces are probably the more effective solution. It's easier to correct complex irregularities because your orthodontist or trained dentist can change the forces and pressures on each part of your mouth as the teeth begin to move. You will likely see better results with braces in these cases.
Budget-conscious patients may want to opt for braces. Generally, conventional braces will be cheaper than Invisalign® and can produce better results. If you hope to get that absolutely perfect smile, you're more likely to achieve it with braces.
People who don't want the hassle of taking dental trays out every time they eat or drink should also lean towards braces. If you are not the most self-disciplined person on earth, braces will help make sure that your teeth are getting the proper tension throughout the day and week.
Let Your Dentist or an Orthodontist Help You Decide
Staying educated on the differences between Invisalign® and braces is the first step in knowing which solution is your best choice. Remember that there are pros and cons for each type of corrective orthodontics.
Of course, you will need to have your teeth and jaw assessed by your dentist or an orthodontist to determine if both options are available to you. So if you're looking to change the shape of your smile, be it structural or aesthetic, get an opinion from someone who specializes in keeping your teeth in the right places.