Losing or breaking a tooth is a terrible thing. But there are dentistry solutions that can replace an original tooth that performs just the same way. One of these solutions is dental implants.
While many people qualify for dental implants, a conversation with your dentist is always the first step in deciding if implants are the best choice for your teeth. Let's learn more about dental implants and who is eligible to receive them.
What are Dental Implants?
When teeth have been knocked out or intentionally removed, you may elect to go with a long-term replacement like dental implants. Dental implants are metal posts that are surgically implanted into the jawbone, simulating a natural tooth root.
Following surgery, the bone begins to grow and tighten around the implants, making this a very stable choice for teeth replacement. After the bone has healed (usually 3-6 months), abutments are placed over the implant. Abutments are connectors that secure the new artificial tooth to the implanted post.
Finally, once healing is complete, the dentist will fill in the gap with a replacement tooth. This tooth is fitted and customized to match your teeth and your bite. Implants can be installed for a single tooth or an entire upper or lower arch of teeth.
Dental Implants vs Dentures
Dentures are another type of artificial tooth replacement. The major differences between implants and dentures are that dentures are removable and that dental implants will last longer. Implants can be expected to last 20+ years, while dentures will require replacements and adjustments
Because of their stability in being anchored to the jawbone, dental implants usually provide more comfort and natural function than dentures. Properly placed dental implants won't slip or slide around like poorly fitting dentures. Those who elect to go with implants will have an easier time chewing and speaking.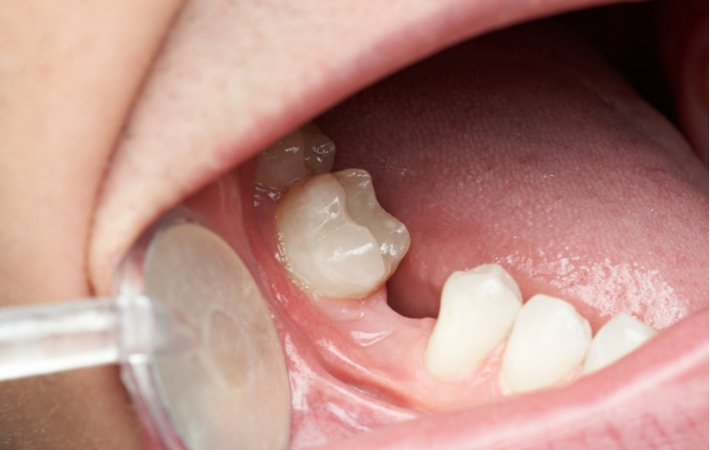 When are Implants the Right Choice?
In general, people without any significant health concerns are eligible for dental implants. A consultation with your dentist and a review of your medical history will always come before any implant surgery is scheduled. There are a few conditions that need to be met to qualify for dental implants:
You are missing one or more teeth or plan on having teeth removed
You have a healthy, fully-grown jawbone
You have healthy oral tissue (gums)
You have adequate bone to secure the implants or can receive a bone graft
You can commit to the entire process that will take several months
Getting a Bone Graft for Implants
Some people may be ready for implants but not have enough actual bone material in their jaw to properly secure the surgically installed posts. This is solved through the process of receiving a dental bone graft.
During this procedure, bone from another part of your body, or artificial bone, is surgically grafted to the jawbone where the posts will be implanted. When done successfully, this provides enough mass to keep the dental implants firmly in place.
Reasons You May Not Qualify for Implants
Unfortunately, not everybody qualifies for dental implants. Although there is often an ability to safely install dental implants, some people are likely to encounter complications during the process. You are not an ideal candidate for dental implants if:
You have a health condition affecting bone healing
You do not have adequate bone mass in the jaw and cannot receive a bone graft
You smoke tobacco (which can lead to infection during recovery)
Dental Implants: A Solution for Many
Getting dental implants does require a little patience, but the results for most patients are worth the wait. Unless you have existing health issues concerning bone healing or oral tissue, there's a good chance you are eligible for dental implants.
Dental implants give back a person's ability to eat normally, speak normally, and smile wide and bright again. Even though dental implants are a suitable choice for so many different people, the initial step is always a discussion with your dentist about the benefits and risks. Hopefully, dental implants are an available solution for you to get your teeth back.