Cosmetic dentistry is a subtype of dental work that uses cosmetic treatments, such as veneers, crowns, or dental implants, to improve the function and appearance of your mouth. Sometimes, these procedures are coupled with another treatment, like a root canal.
It's still possible to use a veneer after a root canal. Although, the veneer shouldn't be put on immediately following the root canal to prevent future colour problems. After filling the root canal, a crown is often the treatment of choice to act as a cap on the tooth. But a veneer offers a purely cosmetic choice, in some cases.
What Is a Root Canal?
A root canal is a solution when a cavity damages the tooth's pulp. If a cavity breaks through the enamel on your tooth, it will eventually infect the tooth pulp. This infection brings discomfort and inflammation, and eventually, it causes pulp necrosis and requires removal.
After your dentist removes the tooth pulp, a filling will prevent the tooth from being infected and protect your smile. It's important to remember that a root canal only removes infected pulp. It does nothing to save that tooth from future problems, so it's important to continue including the tooth in your normal oral health routine by continuing to brush and floss it.
Crown After a Root Canal
Fortunately, the tooth typically retains its function and appearance in your mouth following a root canal. But depending on the severity of the cavity and where it was, a filling may not be adequate alone for long-term protection and function.
Your dentist may offer several solutions to provide extra protection and support. A crown is a common choice because it acts as a cap that covers the entire tooth. This increases its protection from tooth decay and strengthens it.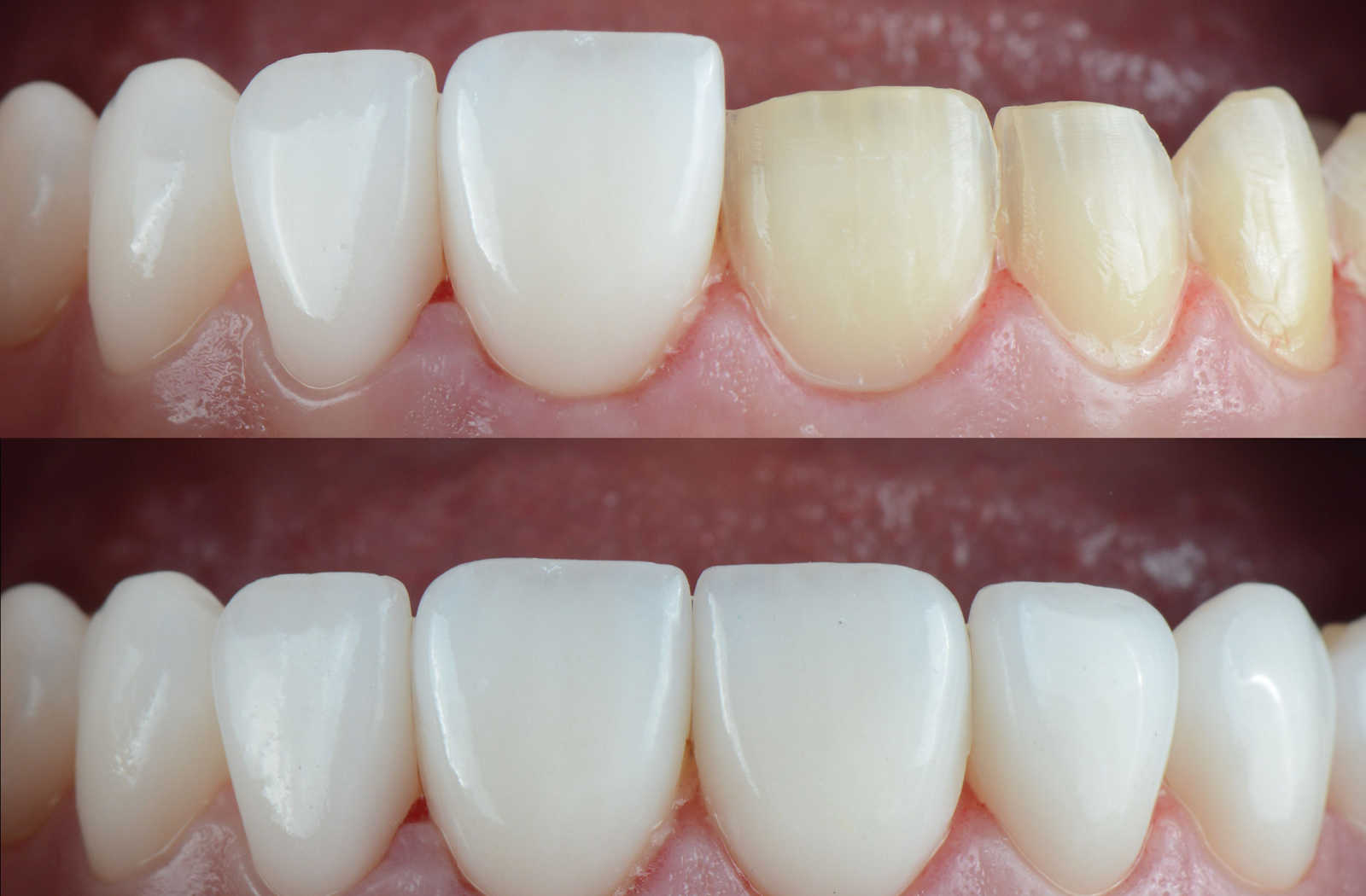 What Is a Veneer?
A veneer is a thin piece of material—often resin-composite or porcelain—which is permanently attached to your tooth. They have many cosmetic applications, such as fixing broken or chipped teeth, improving the shape of teeth, closing gaps between teeth, or as a solution for discolouration.
Before your dentist can recommend veneers, they'll need to inspect your teeth to look for any potential concerns. For example, tooth decay or cavities must be dealt with before the veneers can be attached to your teeth. There also has to be enough healthy tooth left for the dentist to attach a veneer to it.
If everything appears good, your dentist can take moulds or digital scans of your teeth to ensure a custom fit for the veneers. Sometimes your dentist will attach a temporary veneer while your permanent ones are custom-made.
Can You Get Veneers After a Root Canal?
It's possible that the affected tooth could darken or change colour after a root canal. This wouldn't be an issue with a crown because of the coverage, but a veneer is typically a thin material.
Your dentist could match a veneer colour perfectly with the surrounding teeth. Then if that tooth darkens following the root canal, the colour change could show through the veneer and affect the veneer's colour. The dentist can account for this variance when matching up your veneer if the tooth has already darkened.
Potential Veneer Alternative
If your dentist didn't recommend a crown and you want to explore something other than a veneer, you have an option: teeth whitening. It's unlikely that an over-the-counter whitening product like toothpaste or strips will be very effective.
A bleaching treatment performed by a dentist may offer better results. Each situation varies, so discussing the options with your dentist is important.
Discuss Veneers & Crowns With Your Dentist
There is often more than one treatment option you can discuss with your dentist. When you're concerned about how particular procedures now may affect your future oral health choices, it's essential to ask these questions.Whether you're wondering how to deal with a discoloured tooth or need a cavity filled, our team is here to support your oral health journey. Give us a call at Fairlawn Dental Centre, and book an appointment with Dr. Ferhana Jaleel, DDS.