More Than Teeth Whitening
When most people think of cosmetic dentistry, they likely picture teeth whitening. But there's more to it than a shiny, bright smile. Some aesthetic remedies can be restorative, including saving a tooth after an injury or cavity.
Cosmetic services enhance the appearance of your teeth and can help support your oral health. Therefore, there are many reasons you might see a cosmetic dentist.
What Is a Cosmetic Dentist?
In Canada, most family dentists also offer cosmetic services. But is there a difference between a dentist and a cosmetic dentist?
Family dentists are general practitioners knowledgeable about various oral care services and techniques. However, some dentists specialize, focusing on specific oral care areas.
For example, your family doctor likely knows a lot about heart health, but a heart surgeon specializes in cardiac care. Similarly, a family dentist can have training in cosmetic services, but a cosmetic dentist focuses on cosmetic services. They often have additional training.
Therefore, not all family dentists offer all cosmetic services. When considering options for improving your smile—like teeth whitening or veneers—check with your dentist to see what services they can provide.
Our dental team continually upgrades their practice skills to serve our patients better. Dr. l Ferhana Jaleel is trained in cosmetic and aesthetic care.
Cosmetic Services
Cosmetic services include any treatment for improving or enhancing the appearance of your smile. There can be an overlap between restorative, corrective, and cosmetic care, which is why many family dentists also offer cosmetic services.
For example, although orthodontics straightens your teeth, it's a specialty requiring an advanced education program. Therefore, while braces and Invisalign can shape a beautiful smile, orthodontics is primarily corrective rather than cosmetic.
Common cosmetic treatments include crowns, bridges, dental implants, teeth whitening, and veneers.
Crowns & Bridges
When your tooth is damaged or missing, replacing it is more than a cosmetic fix—but it can help you feel confident about your smile.
Dental fillings seal cavities (holes) in your teeth, protecting deteriorated tooth tissue from bacteria. But fillings typically help with minor flaws or cracks rather than replacing larger chunks of a chipped or broken tooth.
The anatomical crown is the top part of your tooth (above the gums). A dental crown is an artificial replacement for a natural crown. The structure sits on top of the tooth, adorning it like a king's crown. But it can also help restore the shape or strength of a tooth—like adding a helmet for protection.
A dental bridge replaces one or more missing teeth. It's called a bridge because there are 2 sides. The bridge sides attach to healthy teeth or dental implants, securing an artificial tooth in the middle. A bridge can blend in with your natural teeth, so there are no empty gaps.
Dental Implants
A dental implant is more than adding a fake tooth to fill out your smile. Dental implants can preserve facial structure by preventing bone loss and tooth shifting. First, an artificial root is inserted into the jawbone. Then an artificial—either a crown, bridge, or denture–is placed.
Dental implants can feel like natural teeth, restoring bite force so you can keep eating the foods you love. The crown or top part can also blend in with your natural teeth, so no one can tell the difference.
Teeth Whitening
The natural colour of teeth ranges from light shades of grey or yellow. Yet, many Canadians consider brilliant white a sought-after shade. Besides looking like a movie star, the whiter shade is also associated with healthy teeth. Also, the absence of stains and darkened tones (common with aging) helps teeth look cleaner and fresher.
There are many teeth whitening methods. A cosmetic dentist can perform in-office treatment and help you achieve your preferred shade.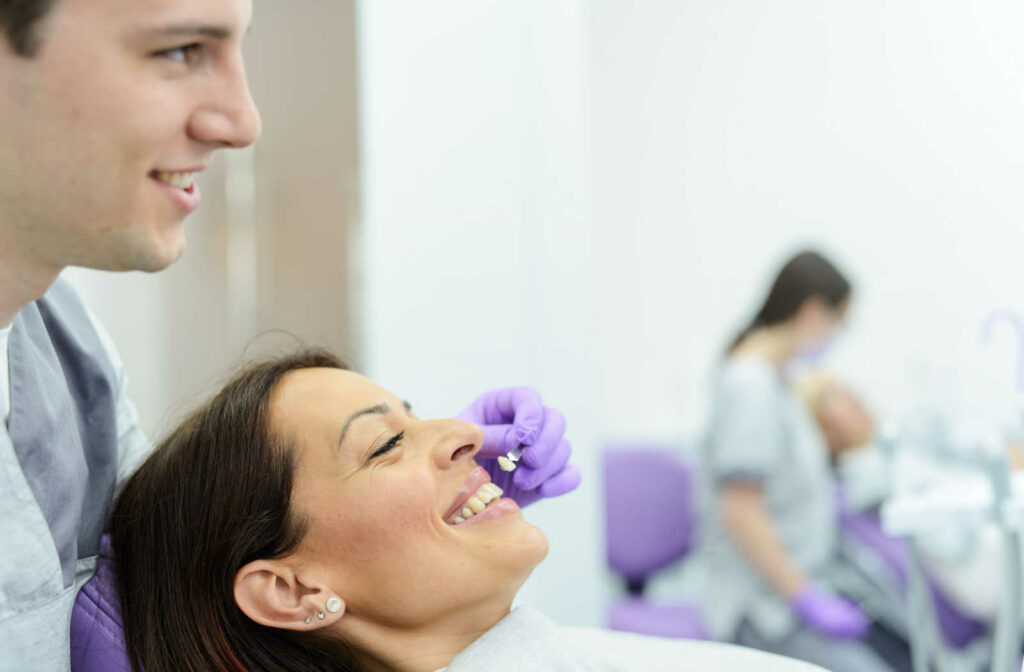 Veneers
A veneer covers the front surface of a natural tooth to restore or improve its appearance. The thin shells are made from porcelain or composite resin and are bonded to the enamel (outer tooth layer).
Veneers help teeth look straighter and improve shape—including covering chips, flaws, or gaps. Additionally, veneers can brighten your smile when stubborn discolouration or staining resists teeth whitening.
While getting a single veneer is possible, most people choose veneers for multiple teeth. For example, you may want to improve your front teeth (as they appear most often when people smile) but skip the molars. Your dentist can make a personalized recommendation after discussing your goals and assessing your teeth.
Should You See a Cosmetic Dentist?
Your teeth are a part of everything you do, from enjoying your favourite foods to sharing a laugh with friends. So you deserve to feel confident about your smile, whether you're improving how your teeth feel or look.
You should see a cosmetic dentist when you have questions or concerns about your smile. Be curious! We'd love to tell you more. We can help you navigate your cosmetic and restorative options, so you can make an informed decision about your care. Book an appointment at Fairlawn Dental Centre today!