Are Veneers the Right Fit for Your Bite?
A beautiful smile can boost confidence and help us feel comfortable with our bite. Many patients might think of braces or teeth whitening, but there are many more options!
Veneers provide instant teeth straightening and brighten your smile. They're also applied to individual teeth, making them a better fit for some patients. However, although veneers can help transform smiles for many patients, some dental problems influence your options.
Your bite can impact many types of cosmetic dentistry, including veneers. So are patients with overbites still good candidates for veneers?
What Are Veneers?
Veneers are a type of cosmetic dentistry (any dental procedure for improving the appearance of your smile). Veneers are thin shells applied to the front surface of a tooth.
The procedure improves your smile by altering tooth shape or colour. Veneers can help repair a tooth that is chipped, decayed or stained. They can also close gaps between teeth and correct crowding or overlapping teeth. In addition, if teeth are discoloured with age or staining, a veneer can improve their appearance.
There are 2 materials used to create veneers: porcelain and composite resin.
Porcelain
Porcelain veneers are stronger, last longer, and are more resistant to staining or discolouration. We have used Lumineers and other porcelain materials at the Fairlawn Dental Centre. Lumineers and other porcelain veneers are custom-made. The naturally-looking dental veneers are clinically proven to last up to 20 years. The process can take as little as 2 visits, and the procedure is minimally invasive.
Composite Resin
Although composite resins are not as strong as porcelain, they are still effective in improving tooth appearance. A composite resin material is also used during a porcelain veneer procedure to help with bonding. In addition, the resin can blend more evenly with your natural teeth, matching the colour and achieving a smooth finish.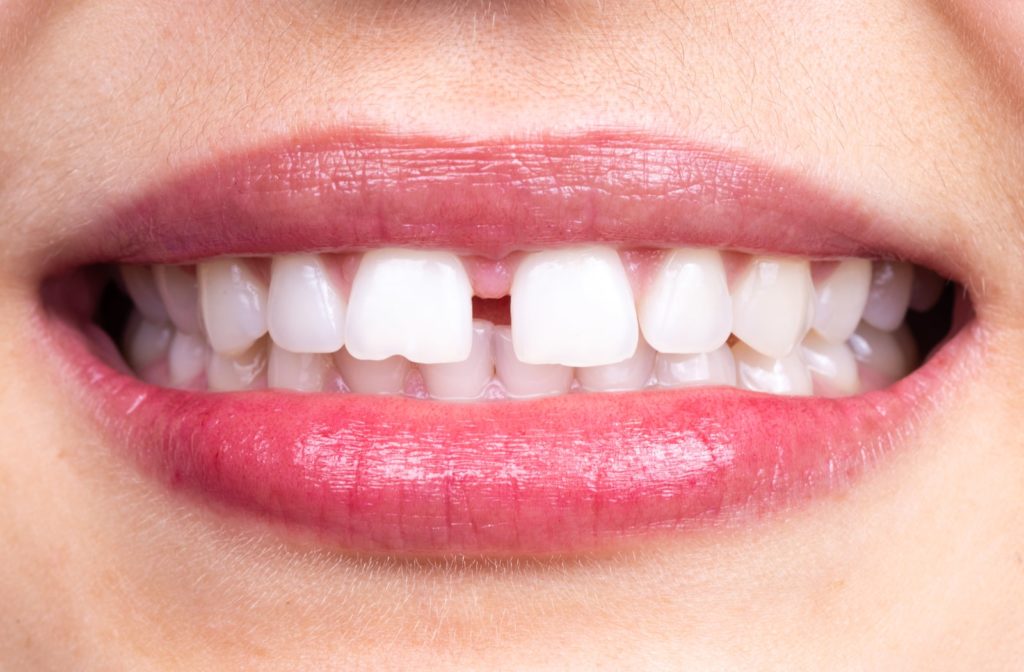 What Is an Overbite?
An overbite (or deep bite) is when the upper front teeth excessively overlap your lower front teeth. The misalignment is usually caused by a lower jaw that is significantly smaller than the upper jaw. It may also be caused by losing back teeth or excessive biting habits, such as nail-biting.
An overbite can cause multiple oral problems, such as:
Causing some teeth to wear down
Difficulty chewing some foods
Front teeth that are more easily chipped/broken
Causing muscle tension or pain
An overbite misalignment (also called buck teeth) can affect a patient's confidence in their smile and potentially cause speech impediments. But overbites can be treated with orthodontics services.
Veneers & Alignment Issues
Most patients choose multiple veneers (usually 6–8) to achieve the desired effect. The top front teeth are typically chosen as they are the most visible. With an overbite, the front teeth are already prominent but may not be an ideal shape or positioned correctly.
In the case of an overbite, the patient may feel most comfortable with veneers improving the appearance of front teeth. It's also possible to choose a single veneer to help fix one tooth. If you have an overbite, getting a single or multiple veneers is entirely possible. However, correcting your overbite first can be more beneficial to your oral health.
Bite issues can also affect the integrity of the tooth. Notably, veneers must be applied to structurally healthy teeth. Chips, cracks, and tooth decay can be surface level, or they can cause significant damage to the tooth's inner layers. If the damage only impacts the outer layers, veneers can help strengthen the tooth and prevent further damage.
When the inner tooth layers are damaged, it can lead to tooth loss or infected gums. It's crucial to schedule regular dental exams and cleanings to receive appropriate care and treatment. If you lose a tooth, you may be a candidate for a dental implant.
Dental implants can strengthen tooth function and improve appearance. After healing, our dentist can reassess your dental health and the possibility of veneers.
Veneers can last a long time, so they must be appropriate for the years ahead. However, suppose you decide later you want to correct your alignment issues. Then, the shape or position of your veneer may no longer work with your corrected alignment. Therefore, readjusting misalignment first ensures your veneers are appropriately fitted for the long-term.
Fixing Overbites
Orthodontics services can help with alignment issues, including an overbite. Our dentists can assess your oral health and recommend the best options. The service we recommend will depend on your dental health, comfort level, and lifestyle. Our orthodontic options at the Fairlawn Dental Centre include Invisalign, braces, and functional appliances.
Beautify Your Smile with Expert Care
Feeling confident about your smile begins with expert dental care. We can assess your dental health and help you find the right option for beautifying your smile. If correcting dental issues or bite problems is a priority, we can develop a personalized plan to improve your bite.
Dr. Ferhana Jaleel is a trained cosmetic dentist dedicated to providing her patients with quality care and beautiful smiles. Our Ottawa dentist can answer your questions about veneers, overbites, or other dental concerns. Contact us at Fairlawn Dental Centre today!